A New Perspective > Flagship of the United States Marine Corps > News Display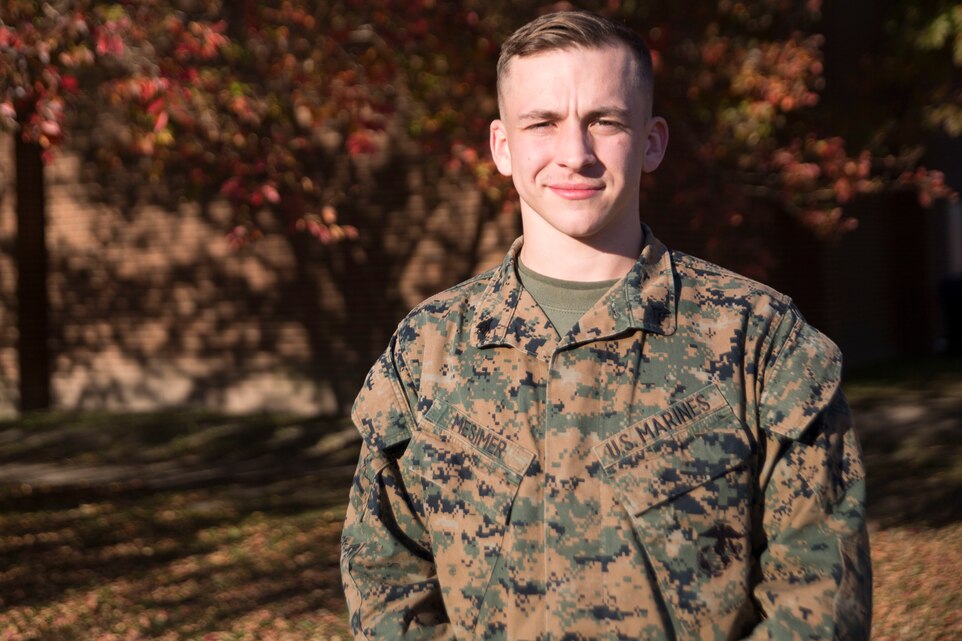 CAMP ELMORE, Va. —
The US Marine Corps is made up of individuals who are the first to fight in the air, on land and at sea. US Marine Corps Cpl. Holden L. Mesimer was born in Salisbury, North Carolina, and is a Marine Air-Ground Task Force Planning Specialist with Plans, Policy and Operations South. Mesimer continually seeks opportunities to improve his efficiency in performing his work.
"With our military occupational specialty, we see the basic commands and requirements." Mesimer continued, "Especially in force command, you see it in the system of designated regiments, divisions, and supplies assigned to their demands."
As a MAGTF Planner, Mesimer designs plans, policies and functions for the operations of various units. MAGTF planners track data from units as they deploy and redeploy, then brief officers and senior officers on situations and missions. He spends most of his day using the Joint Operational Planning and Execution systems to carry out combatant commander missions. However, the use of JOPES software limited Mesimers' ability to experience the Marine Corps outside of his office. To better understand his planning and execution responsibilities, Mesimer went on his first tour aboard a Navy ship, the USS Gunston Hall at Naval Station Norfolk.
"I felt this trip was particularly important as it tied into naval integration and our culture as an amphibious combat group…especially with Force Design 2030, it's a culture that should be embraced by the Marines." Cpl. Holden L. Mesimer, Navy Air-Ground Task Force planning specialist
"Being able to board the ship for the first time, I enjoyed seeing the capabilities, culture and life on board a ship. On the other hand, there are about twenty Marines living in a space the size of a bedroom. Mesimer said: "Once physically on a navy vessel, I saw the space they have to work with and their living conditions. By noticing the limited amount of space, I gained a better understanding of the requirements of maritime task forces and the limitations of the space and resources they require.
While visiting a Navy ship, Mesimer realized how his MOS is more than a daily chore and affects the lives of Marines and Sailors who venture underway. The visit aboard the USS Gunston Hall allowed him to learn about the military lifestyle at sea. Mesimer now understands that life on a warship is more difficult than he had imagined.
"Being able to see the ship virtually and see it in person expands my view of what really happens when people and equipment are sent out." Mesimer said, "I know now how hard life is for the Navy and Marines who are at sea."
Understanding life on a naval ship is not only a benefit for Mesimer, it also benefits the Marine Corps as a whole. Marines becoming closer to their naval counterparts is an important step toward the US Marine Corps Force Design 2030 that values ​​the advantage of joint forces to deploy whenever and wherever we choose. Force design 2030 prioritizes the cohesion of Marines and Sailors to perpetuate our maritime traditions.
"I felt this trip was particularly important as it tied into naval integration and our culture as an amphibious combat group." Mesimer continued, "…particularly with Force Design 2030, this is a culture that should be embraced by Marines."
Mesimer is grateful that he took the opportunity to visit USS Gunston Hall to broaden his perspective of life at sea. Mesimer encourages Marines to take advantage of the benefits afforded them to learn more about their naval counterparts.
"Being next to the largest naval station in the United States, we should take advantage of opportunities to gain more experience aboard a ship." Mesimer suggested, "It's something all Marines should do."