DVIDS – News – Marine Corps Air Station (MCAS) Cherry Point Community is giving back this holiday season.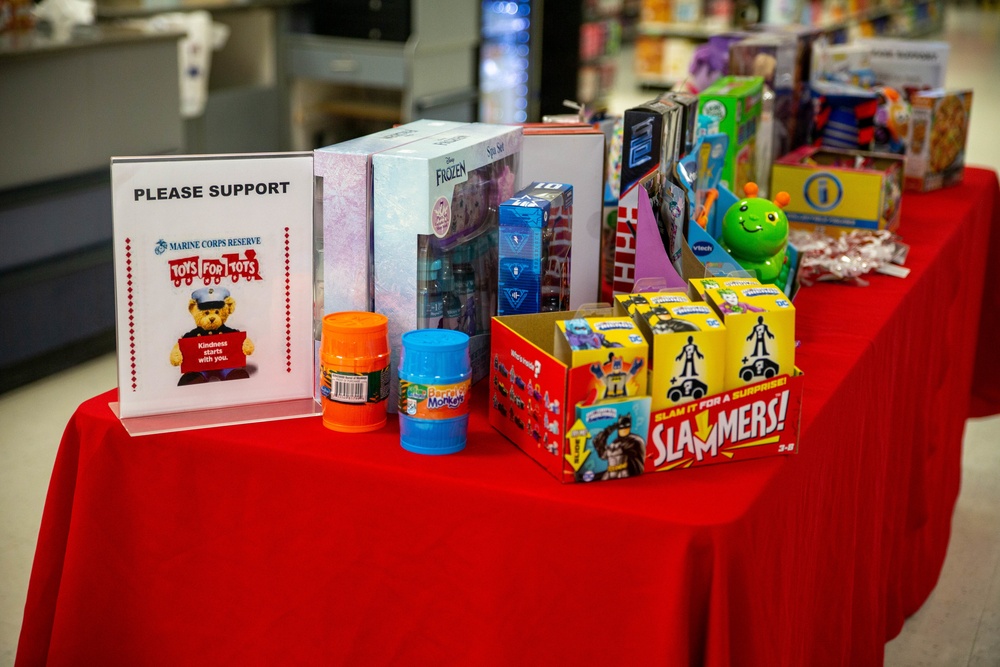 The Cherry Point community at Marine Corps Air Station (MCAS) is giving back this holiday season.
In an effort to help MCAS Cherry Point service members and children in need, various organizations both on and off the facility are coming together to help them have a great Thanksgiving and Christmas.
Starting on Thanksgiving, Memorial Chapel, Carteret County Association of REALTORS and the Whistle Stop Thrift Shop, which is operated by the Cherry Point Spouse Club, are pooling their resources to purchase $25 gift cards for service members who need to buy a Thanksgiving meal.
"There always seem to be people with needs during the holiday season," Chaplain Bingol said. "It can be particularly difficult with some of our younger enlistees, especially those with larger families. It becomes one of those occasions for the air station to think about those people and help them out a bit. It can help them have a great vacation and ease some of the burden.
The Chapel will collect monetary donations through Friday, November 19, 2021 and will purchase approximately 200 Commissioner's Gift Cards with the funds raised, breaking last year's record of 184. Gift card recipients will be identified by sergeant majors and senior enlisted leaders, and can be picked up confidentially Nov. 22 and 23 at the Memorial Chapel.
"It's important that we give back to our own," said Whistle Stop Thrift Shop volunteer Dana Dunn.
As we transition into the holiday season, Marine Corps Community Service (MCCS) Cherry Point will be sponsoring the Air Station Angel Tree, which will be displayed in the MCX and Naval Health Clinic from November 23 through December 23. 14, 2021. The way it works is that the names of children in need on MCAS Cherry Point will hang on the tree, and shoppers can choose an "angel" to purchase a new, unopened Christmas gift for, ne not exceeding $25. Gifts can be dropped off at the Customer Service Counter of the Main Exchange.
Additionally, the U.S. Marine Corps Reserve Toys for Tots Program will sponsor the toy drive on the air station this year. Toys for Tots is an initiative where people can buy a new, unwrapped gift for a child in need and drop it off at various distribution sites. The drop-off location on the air station is inside the main interchange.
"The difference between Toys for Tots and the Angel Tree is that the Angel Tree is very targeted and specific to a particular child," Chaplain Bingol said. "Toys for Tots is more general, they have toys appropriate for a boy or girl in a particular age range."
For more information on Thanksgiving gift cards or to donate, contact Memorial Chapel at 252-466-4000. Other volunteer inquiries about Toys for Tots can be answered at https://camp-lejeune-nc.toysfortots.org, and questions about the Whistle Stop Thrift Shop can be directed to 252-444-0949.
| | |
| --- | --- |
| Date taken: | 18.11.2021 |
| Date posted: | 18.11.2021 16:16 |
| Story ID: | 409624 |
| Site: | CHERRY POINT, North Carolina, USA |
---
| | |
| --- | --- |
| Web views: | 67 |
| Downloads: | 0 |
---
PUBLIC DOMAIN
This work, The Cherry Point community at Marine Corps Air Station (MCAS) is giving back this holiday season., through Samantha Kupiainen, identified by DVD, must follow the restrictions listed at https://www.dvidshub.net/about/copyright.