Marine Corps Air Station Iwakuni Fire Department Dedicated to Community Service > United States Marine Corps Flagship > News Display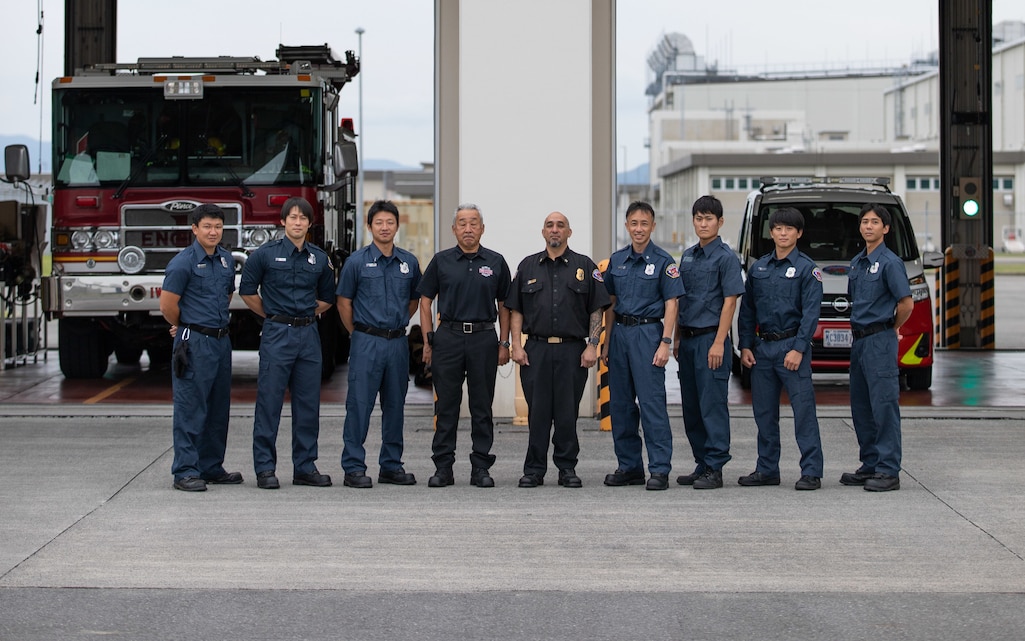 IWAKUNI, Japan —
"I have no other ambition in this world but one, and that is to be a firefighter. we believe it is a noble calling. Our proudest moment is to save lives. Spurred on by such thoughts, the nobility of occupation excites us and stimulates us to do acts of boldness, even supreme sacrifice.
This statement was uttered by New York City Fire Department Fire Chief Edward R. Croker more than a century ago, and still rings true to many firefighters today. Marine Corps Air Station Iwakuni Base Fire Marshal Michael Ballesteros Jr. was particularly inspired by this quote, who believes it embodies the essence of a firefighter's job.
Ballesteros, originally from Hawaii, also strongly believes in an old saying he heard when he was young, one that invokes initiative and confidence in the face of adversity, which Ballesteros strives to possess every day in his life. work.
"In Hawaii we have this saying If possible, can! If not can, can. What that really means is if you think you can do it, then do it, and if you think you can't do it, do it; You are your only limit.
Both quotes reinforce an idea of ​​bravery and going beyond your limits in order to benefit yourself and those around you. Ballesteros and the rest of the rest of the MCAS Iwakuni Fire Department recognize that all of these qualities are essential to the job of firefighting, which is inherently a job of selflessness and helping others.
"We are dedicated to protecting the lives and property of the MCAS Iwakuni community from fires, natural disasters and other emergencies," Ballesteros said. "Our mission is to save lives by providing all-hazards response services, to prevent fires through prevention and education, while ensuring a work environment that values ​​cultural diversity and is free from harassment and harassment. discrimination."
While protecting the lives of others from harm is their number one priority, they must also focus on their own well-being on and off the job. With the inevitable conflict of personal and professional life on their minds, these firefighters actually have a remedy that helps them accomplish their daily tasks.
"Personal and professional life – it's one and the same thing," Ballesteros said. "You see, while most people only have one home to go to, firefighters have two: on duty and off. Because we're so much like family, we rely on each other's mentorship, so we're all great at making sure we're ready to go.
Working around the clock and ready for anything at any time, the MCAS Iwakuni Fire Department not only focuses on stopping fires, but also on educating the public on how to mitigate fires providing information such as the "12 for 12 Safety Tips," posted on their social media page each month, and hosting events during Fire Prevention Week in October, which enables MCAS Iwakuni personnel to participate and practice using fire prevention equipment.
While firefighters like Ballesteros waste no time giving back to the community, Ballesteros says the exchange of gratitude is mutual, as the community always makes time to help and give back to the firefighters who serve on the base.
"The community is responding very well; they always ask us to go out and put on an exhibit, do a demonstration, or ask for fire and life safety training," says Ballesteros. "The community is really good at providing feedback on the services we provide, and it allows us to reassess and adjust to meet their needs."
Their hard work and dedication hardly goes unnoticed as they were recently recognized this year by the Public Safety Center of Excellence as an Accredited Fire Department.
Ballesteros says the rewards and recognition are fantastic, but the real reward for his work is something much simpler than anything physical. He proclaims it's about the positive feelings that come from helping those in need, and he reiterates that many firefighters share this understanding.
"Knowing that what we do benefits the community makes it worth coming to work every day," says Ballesteros. "They give us love, support and trust, and that helps us tremendously."