Marine Corps Detachment Fort Leonard Wood bids farewell to Long and welcomes Redden during change of command ceremony | Article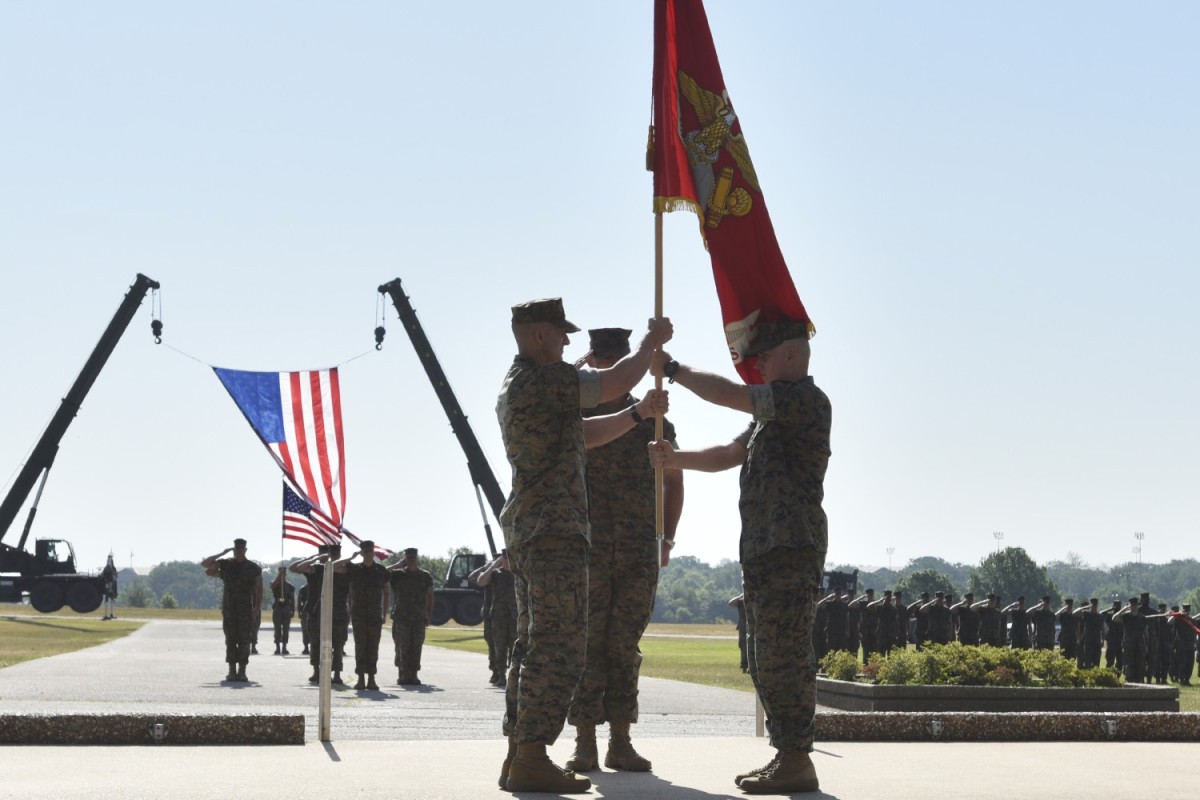 FORT LEONARD WOOD, Mo. – Marines at Fort Leonard Wood said goodbye to Col. Charles Long and welcomed Col. Scottie Redden, who assumed command of the Marine Corps Detachment here during a change of command ceremony July 22 at Gammon Field.
The reviewing officer for the ceremony was Maj. Gen. James Bonner, Maneuver Support Center of Excellence and Commanding General of Fort Leonard Wood.
Bonner said Long left Fort Leonard Wood and the Marine Corps better than he found them.
"Over the past two years, he has made a tremendous difference during his tenure as the Marine Corps Detachment Commander," Bonner said. "He led, developed and supported his command teams and executives to train more than 10,000 Marines in four technical areas at the highest level. I appreciated his presence and tremendous contributions in every battle rhythm event and appreciated his willingness to support a variety of garrison missions.
Long, who is retiring after more than 38 years of service to the country, "will always be part of the Leonard Wood team," Bonner added.
"We are all very honored to have served with you," Bonner said. "We wish you the best for your retirement."
Long thanked his command team and the Fort Leonard Wood community for their support over the past two years. He also thanked the Marines who helped him become a leader during his career.
"You are one of the reasons I stayed all these years – because I got to serve with our nation's heroes," he said.
Long pointed out that one in seven enlisted Marines trains at Fort Leonard Wood.
"Most importantly, we are helping to train future Marine Corps leaders," he said.
To Redden, Long offered his congratulations on taking command of the largest Marine Corps unit not located on a Marine Corps installation.
"I wish you luck in all your future endeavours," he said. "I hope you will take care of this order.
Redden arrives at Fort Leonard Wood from Camp Lejeune, North Carolina, where he served as the 2nd Marine Division's deputy chief of staff for supply and logistics. He said he is honored to take command of the Marines from Fort Leonard Wood, adding that he has seen firsthand the talent produced here.
"I was very much looking forward to… participating in the development of our equipment operators, service and maintenance technicians, military police, correctional officers, motor transport operators, specialists (chemical, biological, radiological and nuclear) and non-lethal weapons instructors," he said. "I look forward to discovering the unique abilities inherent in these specialties."
This is Redden's first assignment in the Midwest, and he said he looks forward to enjoying all that Missouri has to offer.
"I've seen the people affected here have become quite attached to the area, so I expect the same for me and my family," he said.
Redden also thanked Long for his service and warm welcome to Fort Leonard Wood.
"During my short time here, I have been quite impressed with the quality of the Marines, the passion for leadership, the pride and the work ethic of everyone associated with the Marines of the Ozarks," he said. "No doubt they reflect your leadership."