Marine Corps Exchange turns to air freight to solve shortages for buyers in Japan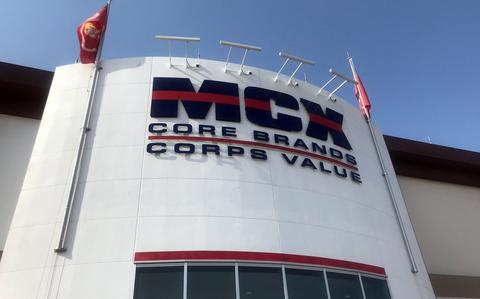 MARINE CORPS AIR STATION IWAKUNI, Japan — The Marine Corps Exchange at this air station is trying to address commodity shortages by shipping more inventory by air rather than ocean carrier.
Japan's only Marine Corps Exchange is feeling the same inventory shortage plaguing retailers around the world thanks to a pandemic-induced global supply chain backlog. The slowdown in the movement of goods around the world has resulted, for example, in shortages of dairy and other products on the shelves of stores at American bases abroad.
MCAS Iwakuni exchange handlers are taking several steps, in addition to shipping air freight, to provide relief to buyers, according to a March 23 statement from Marine Corps Community Services.
"Iwakuni's remote and isolated location coupled with a [6,000] The mile's supply chain will remain an ongoing challenge to stay in stock in high-demand, high-velocity merchandise," the statement posted on Facebook said.
The exchange also stocks merchandise in a regional distribution center in California, which should result in shelves being restocked more quickly, according to Bryan Driver, a spokesman for Marine Corps Exchange headquarters.
"This process has been in place for about a month, and we are still measuring the positive impact to pick up orders placed immediately," he told Stars and Stripes via email on Wednesday.
No one commodity category accounts for the majority of shortages on the MCAS Iwakuni exchange, Driver wrote.
"It depends on seasonality, product availability, supplier fill rates, changes in demand, etc.," he said. "The past two-plus years have had significant COVID impacts on manufacturing and supply chain disruptions across all commodity categories."
The exchange service is also recruiting an analyst to track product availability issues and strengthen its relationship with the Army and Air Force exchange service.
The analyst will work with the Iwakuni exchange and buyers and managers at the exchange's headquarters to find ways to work around supply chain obstacles, according to an email Wednesday from Master Gunnery Sgt. Christof Coleman, head of business operations at MCAS community services.
AAFES and the Navy Exchange shipped goods to MCAS Iwakuni from their warehouses in Japan, Driver said.
"We are exploring a more permanent and lasting relationship for the future in the products they each stock in Japan," he said. "They too have experienced many of the same challenges [the Marine Corps Exchange] a, except that their footprints are much larger and their location is less rural.
The amount of goods that will arrive at the Iwakuni exchange by air and the amount of money allocated to pay for it have not been determined, Driver said.
Air shipments will take over when a "trigger" occurs, such as unexpected troop movements, increased sales like those that occurred during pandemic shutdowns or a delay in a freighter's travel time, a he wrote.
But some MCAS Iwakuni buyers have yet to see an improvement.
"I came from Camp Humphreys and compared to what they were doing here, they were able to maintain it a lot better," Mark Brennan, a civilian Department of Defense employee, told Stars and Stripes on Wednesday. "With the start of the sporting season, there are no studs and nothing like that."