North Carolina Bookwatch airing farewell season: Long-running public television production ends after 23 years | Local News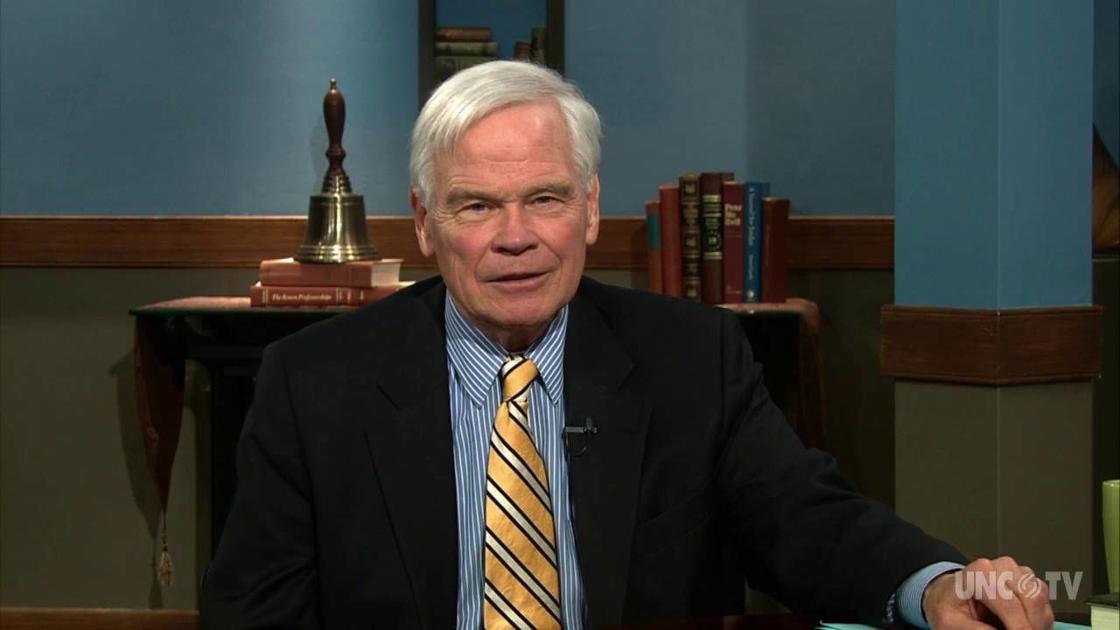 Long-running public television series North Carolina Bookwatch starting November 7 will air its farewell season with a diverse set of North Carolina writers, a special retrospective episode, and an online event.
The 23rd season on PBS North Carolina, formerly UNC-TV, begins at 3:30 p.m. on Sunday, November 7, with Barry Saunders, former columnist for The News & Observer and editor of the online news platform The Saunders Report.
It will continue the following Sundays with Wiley Cash, author of the thriller "When Ghosts Come Home"; Annette Saunooke Clapsaddle, author of the first novel "Even As We Breathe," the first novel published by a member of the eastern band of the Cherokee Indians; and Clyde Edgerton, a Durham native and accomplished author of 12 novels, including two film adaptations.
Bland Simpson, longtime Red Clay Ramblers, environmentalist and author of the all-new "North Carolina: Land of Water, Land of Sky," will join host DG Martin at 8pm on Tuesday, December 7 for a look back at the many books and authors who have shared the Bookwatch set over the years.
"For more than two decades, the GM program has advanced our mission to educate, inform, entertain and inspire our audiences," said Lindsay Bierman, CEO of PBS North Carolina. "He captivated his viewers with a constant love of reading and storytelling while introducing us to some of the most powerful voices and prolific writers in the country. DG's legacy and contribution to our network will have archival significance and lasting impact.
To commemorate the show and celebrate its host, PBS North Carolina will host a live virtual event at 7 p.m. on Thursday, November 18. The event will begin with a preview of the retrospective episode followed by a discussion with Martin and moderated by Bierman. It is free and open to the public. Additional information and registration can be found on Eventbrite.
North Carolina Bookwatch debuted in 1997 with original host Robin Minietta. After three seasons, Minietta left the anchor, opening the post to Martin, a longtime public servant and politician.
Over the next 22 years, Martin filmed over 450 episodes and interviewed hundreds of state-connected writers, from literary giants Nicholas Sparks, John Grisham and Kathy Reichs to local celebrities Roy Williams, Vivian Howard. and North Carolina Poet Laureate Jaki Shelton Green.
"North Carolina Bookwatch hosting has been a part of my life for over 20 years," said Martin. "I will always be grateful to PBS North Carolina for giving me the privilege and responsibility of hosting over 450 programs that have brought North Carolina writers into viewer homes statewide and beyond. "
Over its 23 seasons, North Carolina Bookwatch has filmed episodes primarily in its home studio located inside the Joseph and Kathleen Bryan Communications Center in Research Triangle Park.
Frequently, however, the show has fulfilled its mission of bringing writers and viewers together by filming on location at literary festivals, colleges and universities, and local bookstores spanning statewide.
As a tribute to the program's unwavering support for local writers and booksellers, the final season of North Carolina Bookwatch was filmed at the independent Flyleaf Books, located in Chapel Hill.
"I will never forget the day I was chosen to be the producer / director of this show," said Katy Loebrich, producer for the past seven seasons. "I come from a long line of teachers, linguists and librarians and have been an avid reader since childhood, and working with DG, meeting writers and working on this show with our amazing team has been a dream for me."
North Carolina Bookwatch airs at 3:30 p.m. Sunday and 5 p.m. Tuesday on PBS NC and 8 p.m. Tuesday on North Carolina Channel.
Full episodes are also available on demand at video.pbsnc.org and through the PBS video app on iOS and Apple TV, Android TV, Roku, Amazon Fire TV, Chromecast, and Samsung Smart TV. For more information on North Carolina Bookwatch, visit pbsnc.org/bookwatch.