The Home Depot Foundation and Tunnel to Towers renovate the family home of a Marine Corps veteran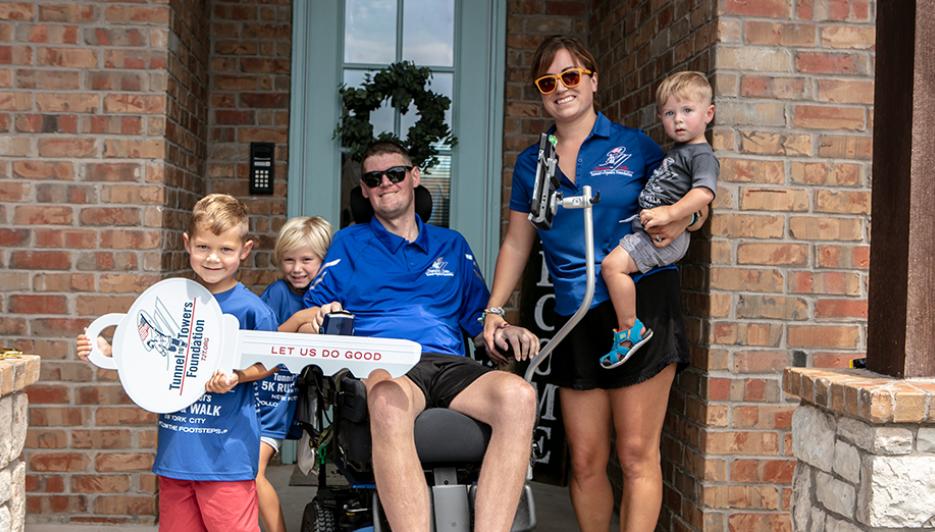 Major Tyler Tidwell spent 13 years as an infantry officer in the United States Marine Corps. He has deployed three times in support of US Central Command and has participated in training and operations in numerous countries. Shortly after his last deployment in 2018, Tyler was diagnosed with amyotrophic lateral sclerosis (ALS), commonly known as Lou Gehrig's disease. It progressed rapidly, taking away his ability to speak and much of his physical mobility.
The Home Depot Foundation recently partnered with the Tunnel to Towers Foundation to renovate the Tidwell House into a smart home tailored to its individual needs. Upgrades include ADA-compliant wheelchair ramps, automated gates, wider doorways, roll-in shower and more. In addition, the mortgage on their house has been fully satisfied.
Tyler shares, "I think two of the greatest blessings in our lives have been our association with Navy football and the Marine Corps. It's these relationships that have allowed us to connect with great organizations like the Home Depot Foundation. [and] From the tunnel to the towers.
The Tunnel to Towers Foundation offers various programs to help firefighters, military veterans and their families. Since 2011, the Foundation has invested more than $400 million in veterans' causes and improved more than 50,000 veteran homes and facilities.
To learn more about our veteran initiatives, visit HomeDepotFoundation.org.